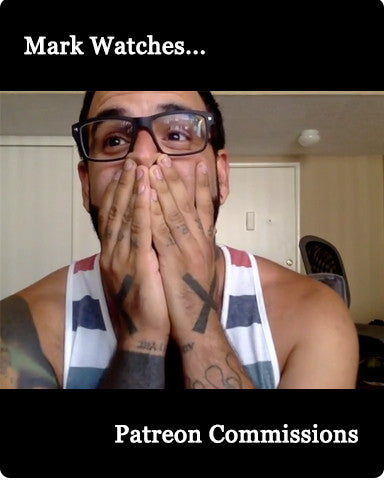 Mark Watches Patreon Commissions
$0.99
These are all completed commissions for Patreon supporters who have pledged $100 or more per month. These supporters are allowed to commission bonus videos from Mark which are available to purchase from this page. The videos currently available are:                                                                                                                                                                           
Song of the Sea                                                                                                    Time of Eve                                                                                                             Play It Again, Dick:  1, 2, 3, 4, 5, 6, 7, 8               
Kemono Friends: Episode 1, 2, 3, 4, 5, 6, 7, 8, 9, 10, 11, 12
Ouran High School Host Club: 1x01, 1x02, 1x03              
The Gruffalo film                                          
Joan of Arcadia: 1x01, 1x02
Hustle: 1x01, 2x06, 5x01
Enlightened: 1x01, 1x02, 1x03
Gravity Falls: 2x16
Noir: Episode 1, 2
Black Books: 1x01
One Piece: 1x01, 1x02
Nikita: 1x11
Static Shock: 1x01, 1x08
Snow White Christmas film
Rudolph's Shiny New Year film
Litte Witch Academia film
Jem & the Holograms: 1x16, 2x05
Fruits Basket: 1x01, 1x02
Soul Music by Cosgrove Hall: Part 3
Please make sure you are purchasing the correct videos. Each download link may be clicked FIFTEEN (15) TIMES, so please feel free to pass the link to your friends or other community members! SHARING IS LITERALLY CARING. Please consider purchasing a Video Pass in order to enjoy a discount when purchasing more than one commission at a time or over the course of a season.