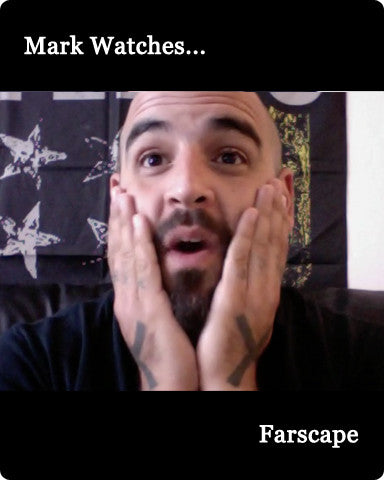 Mark Watches 'Farscape'
$0.99
These are all the original video commissions of me watching Farscape. Choose the episode you'd like to download from the dropdown menu at the right, and hit "Add To Cart." Repeat if you'd like to buy more than one! You will be emailed links upon confirmation of your payment to download the video files. They are $0.99 each, not for all of the episodes available.
Please make sure you are purchasing the correct episodes. Each Complete Season contains all 22 episodes from that season. Season 4 DOES NOT include the Peacekeeper Wars miniseries. (Please note: No matter how many times I try to change it, the email you'll get for the complete first season puts episode 4 at the very end. I DON'T GET IT.) 

There is no video for 2x14, "Beware of Dog." The file was lost/corrupted post-recording. :(
Episodes will be available the week prior to the scheduled reviews. Each download link may be clicked 
TEN (10) TIMES
, so please feel free to pass the link to your friends or other community members! SHARING IS LITERALLY CARING. Please consider purchasing a 
Video Pass
 in order to enjoy a discount when purchasing more than one commission at a time or over the course of a season.